Elegance Series - SE Bed
Temperature Neutralizing
Sleep Number doesn't have anything comparable to this model. The Rejuvenation Series number bed mattress give you the ability to adjust your level of comfort and provides rejuvenation benefits to help revive your body through out the night. The Rejuvenation Series models are made up of a copper infused Energex comfort layer, an air flow comfort layer and a support layer. The cover is an ultra-stretch, temperature neutralizing, smooth top panel. Also includes our new, poly blend, ultra-flex air chambers.

These models come standard with our fully digital state-of-the-art pump system with built-in Bluetooth to allow smartphone connectivity to the mattress. All of our pump systems use a medically recognized pressure scale with 45 unique number settings, from 5 to 50. Our 2-Zone technology allows complete individualized personalization.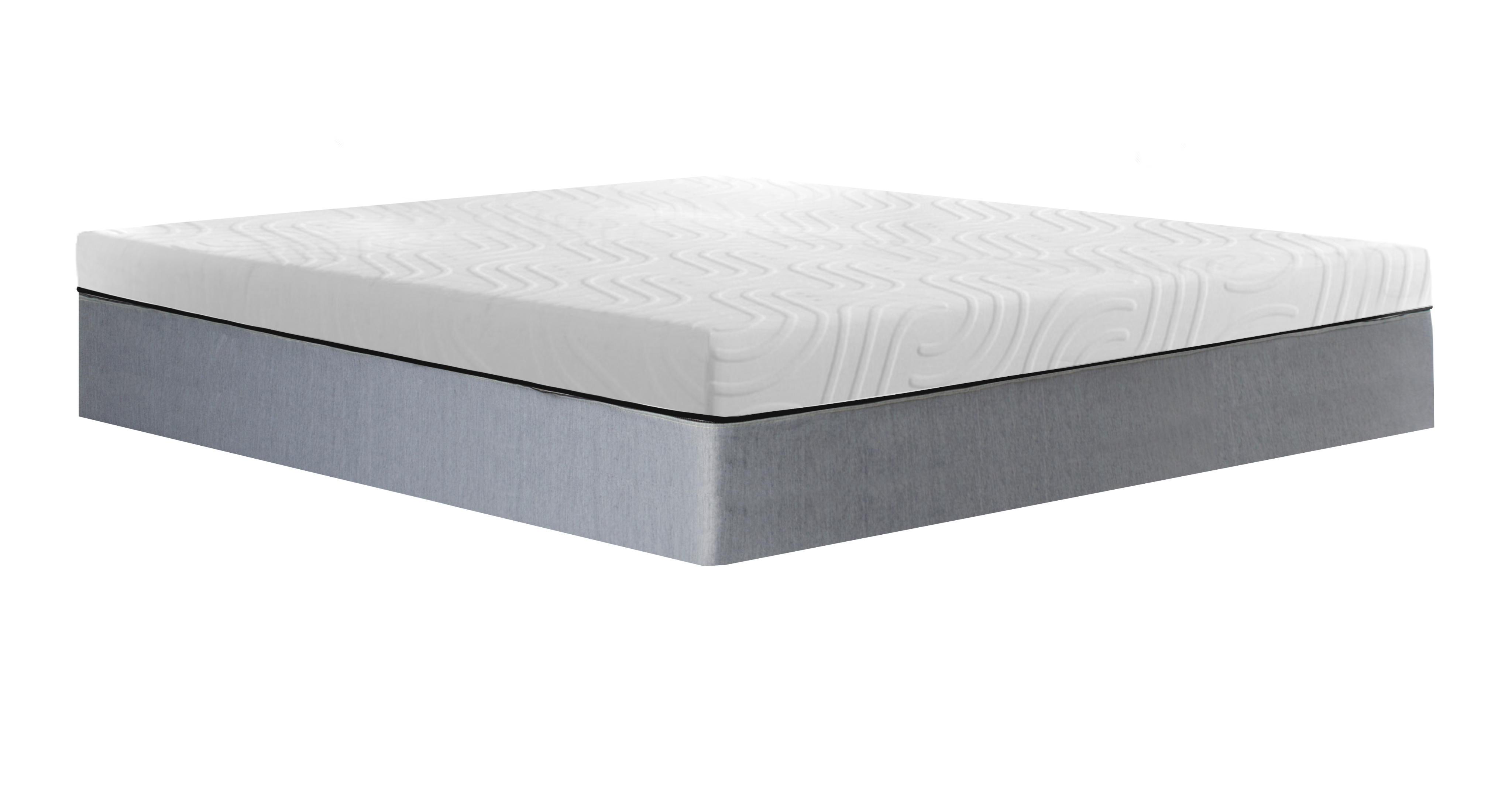 TECH SPECS
Manufacturing
The Personal Comfort® mattress is designed in the U.S.A. and manufactured by the producers of the Original Number Bed®, American National Manufacturing (Est. 1972). As a leader in the mattress industry, we combine the highest quality materials with state-of-the-art technology.
---
Build and Materials
Temperature Neutralizing Top Panel Woven Cotton Zipper Cover Copper Infused Energex™ Comfort Layer Air Flow Comfort Layer Stretchable Airlayer™ Fabric Layer
Anti-Microbial Ultra-Flex Air Chamber(s) Electric Pump System Reinforced Air Hoses
---
Measurements of Components
15" Total Mattress Height 9" Total Comfort Layers 1/4" Temperature Neutralizing Top Panel 4" Copper Infused Energex™ Comfort Layer 2" Air Flow Comfort Layer3" Comfort Support Layer
1/4" Airlayer™ 6" Air Chambers 6 1/2" x 3 1/2" Lock-Tight Rail Design 5' 4" Reinforced Air Hose
---
Shipping Information
Shipped domestically from North Kansas City, MO.
---
Shipping Costs
Free shipping in the continental U.S.A. In-home setup services available for an additional fee. Read More
---
CertiPUR-US® Certified
All Personal Comfort products contain certified foam comfort layers. Our comfort layers are certified by CertiPUR-US®, a not-for-profit certification program for comfort layer used in bedding products and upholstered furniture. When you see the CertiPUR-US® seal, you can be confident that the flexible Air Flow Comfort Layer inside meets CertiPUR-US® standards for content, emissions, and durability, and has been analyzed by independent, accredited testing laboratories. Visit CertiPUR-US Website
---
Air Control Unit Information
Our new generation of air control units come with Bluetooth wireless connectivity. The control units use a medically recognized pressure scale with a range of 5 to 50 mm/Hg and increase or decrease pressure in increments of one. There are a total of 45 personalized settings, per side, available to you.
Power Use Surge protector recommended 24V 2000mA
---
Warranty
25-Year Limited Warranty with 5-Years Full Coverage. Read More
*Using a wall hugging power base, in combination with a Personal Comfort mattress, will void your warranty.
OUR TECHNOLOGY
---
Personal Comfort® App
Control the Personal Comfort® mattress, wirelessly, from your phone or tablet. Personal Comfort® is the only Number Bed manufacturer with their own downloadable app that makes it easy to adjust your mattress.

Adjust your mattress wirelessly by using your smart phone or tablet with our state-of-the-art bluetooth air control unit. Just launch the Personal Comfort® app, select your side and start adjusting. It's that simple!

Compatible with Android and iOS operating systems. Download for free on Google Play or the App Store.
Download App
Air Control Unit
You're in control. Our Air Control Unit only turns on when you want it to make an adjustment. And it won't turn on automatically while you're sleeping.

More options. More comfort. Our new Air Control Unit comes with Bluetooth connectivity to give your smartphone control of the sleep system. There are 45 total pressure settings from 5 to 50 in increments of 1.

Less noise. More efficient. Our Air Control Unit uses a dual diaphragm compressor that is much quieter and more efficient than popular piston-based compressors.

Sizes and Dimensions
3.5" height x 6" wide x 9" long
2 - Connector Hoses (Male)
1 - Power Cable
COMPARE TO SLEEP NUMBER
---
Personal Comfort Bed Types
NEW - Copper Infused Energex™
TAKE A LOOK INSIDE THE PERSONAL COMFORT BED
---
Our Difference at a Glance
Sleep Number® makes a nice number bed. We think ours is better—and it's certainly a better value. See what you think.
---
Feature
Personal Comfort
Sleep Number
---
True Dual Adjustability
YES
Air chambers are completely independent, not zipped together.
NO
Zippers are used, down the middle, to hold air chambers together
---
40-Years of Innovation
YES
The Personal Comfort mattress is manufactured by the producers of the Original Number Bed®, American National Manufacturing (Est. 1972).
NO
Select Comfort introduced "Sleep Number" in 1997, 23-years ago
---
# of Comfort Levels
45
Based on a standard medical pressure scale.
20
Based on their own pressure scale.
---
Upgradeable and Replaceable by Design
YES
All parts and comfort layers of the Elegance Series beds can be replaced or upgraded.
NO
(Ex: the i8 cannot be upgraded to the i10)
---
Real-Time Pressure Monitoring
YES
Monitoring works in flat and elevated positions.
NO
Sleep Number's Responsive Air Technology will not work in an elevated position. Your bed must remain flat (as stated on Sleep Number's user guide).
---
Upper and Lower Body Massage
YES
Personal Comfort Power-Flex 3 and 4 models come with massage.
---
Wireless Remotes
YES
Up to 2 wireless remote can be purchased.
NO
1 wireless remote can be purchased.
---
---
Ultra-Flex Air Chambers
YES
Made of a polyurethane blended material. Helps mattress contour better to the sleeper and a power base.
NO
Uses vulcanized rubber air chambers that do not bend as easily as a polyurethane chamber.
---
Lock-Tight Rail Design
YES
Keeps dual air chambers aligned properly.
NO
Uses zipper to hold air chambers together.
---
Free Shipping
YES
Ships factory-direct.
---
Free Returns
YES
All models except Classic Series.
---
25-Year Limited Warranty
YES
With 5 years full replacement.
NO
Only 15-years and 1-year full replacement.
---
15" Total Mattress Thickness
Temperature Neutralizing - Smooth Top
Fire Barrier
Stretchable Airlayer™
Copper-infused Energex™ - Temperature Neutralizing
Air Flow Comfort Layer
Center Panel Design
Air Chambers
Comfort Support Layer
Advanced Edge Support - Wrapped Rail System
Bottom Mattress Cover