Personal Comfort vs Sleep Number
Click to watch Scott's side-by-side comparison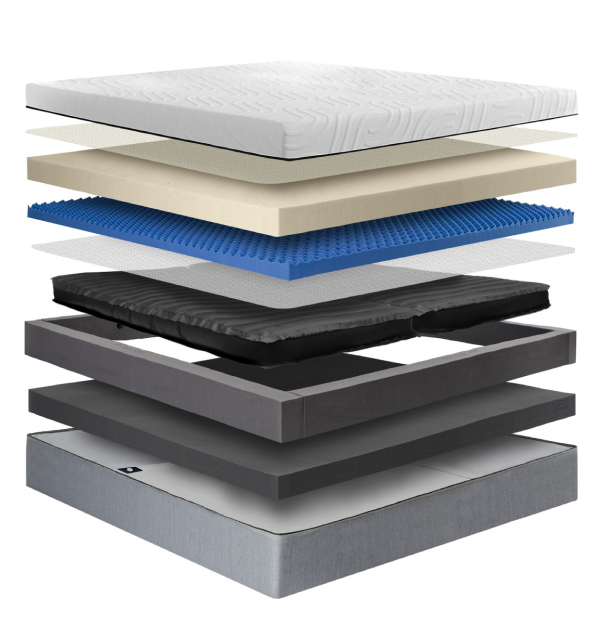 Designed for Forever
Most components inside the Personal Comfort mattress are upgradeable, swappable and replaceable.

The zippers on our premium products are sewn into the mattress with a precision Sleep Number doesn't bother with. It costs us more, but it changes everything. It means every zipper on every one of our mattress components lines up perfectly with every other—and that means all of our mattress components are interchangeable across our entire product line.

So if your dog digs through your A8 mattress top cover (it happens), just order a new top cover. It'll zip on as smoothly as the original. With Sleep Number's i8, you'd have to buy the top cover plus all the pieces it zips into—and that can cost more than a thousand dollars.

Or say you want to upgrade your mattress cover to the reversible cover (with silky bamboo on one side and cooling on the other). Just order the new cover and strap it on.

In fact, you can completely transform the A8 mattress into a R13 mattress, simply by un-zipping the center panel, adding extra comfort layers and zipping on a new top panel.

So any mattress you buy from Personal Comfort can be made good as new—or upgraded to a different feel—at any time, forever. That's why we say Personal Comfort may be the last mattress you'll ever buy.
Additional Information
AIR-CONTROL SYSTEM

More options. More comfort. The Personal Comfort Air Control System comes with Bluetooth connectivity to give your smartphone control of the sleep system. There are 45 total pressure settings from 5 to 50 in increments of 1.

Less noise. More efficient. Our Air Control System uses a dual diaphragm compressor that is much quieter and more efficient than popular piston-based compressors.

Sleep better without distractions. The Air Control System only turns on when you want it to make an adjustment. And it won't turn on automatically while you're sleeping.

HIGH QUALITY MATERIALS & CONSTRUCTION

We use only polyurethane foam that's been approved by the independent CertiPur-US® certification program. That means it's made without harmful ingredients (e.g., formaldehyde, heavy metals, phthalates) and doesn't give off harmful emissions.

With over 50-years of innovation, the Personal Comfort mattress is designed in the U.S.A. and manufactured by the producers of the Original Number Bed®, American National Manufacturing. As a leader in the mattress industry, we combine the highest quality materials with state-of-the-art technology.
ALL AT A MUCH LOWER PRICE

All Personal Comfort mattresses are built and sold direct to you. We don't have a lot of overhead to pass costs along to our customers, unlike Sleep Number. That's how we can afford to build the best mattress we know how to make, and still sell it to you for far less than Sleep Number in most cases.

Personal Comfort truly is a better number bed at a better price.
Personal Comfort vs. Sleep Number
Sleep Number® makes a nice number bed. We think ours is better—and it's certainly a better value. See what you think.
---
Feature
Personal Comfort
Sleep Number
---
True Dual Adjustability
YES
Air chambers are completely independent, not zipped together.
NO
Zippers are used, down the middle, to hold air chambers together
---
50-Years of Innovation
YES
The Personal Comfort mattress is manufactured by the producers of the Original Number Bed®, American National Manufacturing (Est. 1972).
NO
Select Comfort introduced "Sleep Number" in 1997, 23-years ago
---
# of Comfort Levels
45
Based on a standard medical pressure scale.
20
Based on their own pressure scale.
---
Upgradeable and Replaceable by Design
YES
Almost every part and comfort layer can be replaced or upgraded (Ex: the R11 can be upgraded to the R13)
NO
(Ex: the i8 cannot be upgraded to the i10)
---
Real-Time Pressure Monitoring
YES
Monitoring works in flat and elevated positions.
NO
Sleep Number's Responsive Air Technology will not work in an elevated position. Your bed must remain flat (as stated on Sleep Number's user guide).
---
Upper and Lower Body Massage
YES
Personal Comfort Power-Flex 3 and 4 power bases come with massage.
---
Dual Wireless Remotes
YES
Up to 2 wireless remote can be purchased.
NO
1 wireless remote can be purchased.
---
---
Ultra-Flex Air Chambers
YES
Made of a polyurethane blended material. Helps mattress contour better to the sleeper and a power base.
NO
Uses vulcanized rubber air chambers that do not bend as easily as a polyurethane chamber.
---
Lock-Tight Rail Design
YES
Keeps dual air chambers aligned properly.
NO
Uses zipper to hold air chambers together.
---
Free Shipping
YES
Ships factory-direct.
---
---
25-Year Limited Warranty
YES
With 5 years full replacement.
NO
Only 15-years and 1-year full replacement.
---
*Comparison based on product availability and features as of 7/18/23