Thank You For Your Interest
Your promo code is below - This special offer ends soon!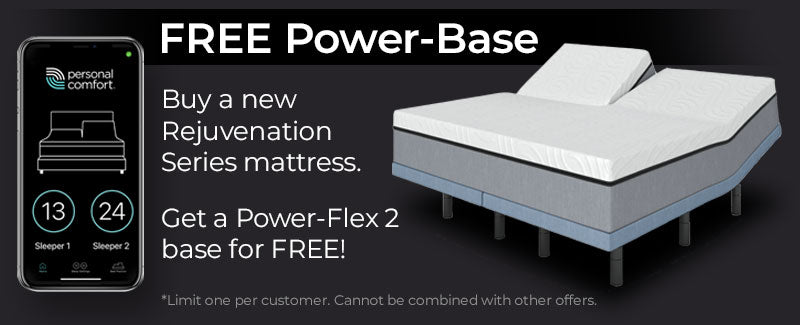 Additional $100 Off Bed & Base - Use Promo Code: USA2023
Additional Promo Codes available by Phone Only! We will be reaching out to you shortly.
Before You Buy - You Have to Watch this Video!
Click to watch Scott's side-by-side comparison of Personal Comfort vs Sleep Number
Personal Comfort is not affiliated with Sleep Number corporation and does not sell Sleep Number® products.
Why Personal Comfort?
We care about how comfortable you are when you sleep and how you feel when you awake. We care so much that we guarantee it! We stand behind our 120-night risk-free trial and our 25-year warranty. We spare no expense when it comes to quality materials and the craftsmanship required to build each Personal Comfort bed. We are the creators of The Original Smart Bed™ with more than 50-years of mattress manufacturing experience and Personal Comfort was born from the desire to always seek engineering perfection.
Learn More
Life Changing, Customer Testimonials
"My husband likes a soft mattress, I like a super firm mattress. After 7 years, and constant visits to the chiropractor, we purchased a Personal Comfort bed and, finally, sleep soundly every night. No stiffness, aches, or pains in the morning, and no more visits to the chiropractor."
AJ – Florida
"I just wanted to tell you that this mattress is the best I have ever had in my life (and I'm 62)! It's so comfortable I don't want to get out of bed in the morning. After having such bad luck with one mattress after another, it is a joy to finally have found the perfect one. Thanks for making such a great product."
Mary - California
"I can only say I never dreamed I could be so happy with a bed, I am enjoying every night I go to bed. This is the best and the price is right. Thank you Personal Comfort for my personal comfort."
Josey - California
Compare Price by Size
Default
Twin
TwinXL
Full/Double
King
Queen
Cal King
A6

11" Total Mattress Height 5" of Comfort Layers

SE

12" Total Mattress Height 6" of Comfort Layers

A5

10" Total Mattress Height 4" of Comfort Layers